To see your report
1) You first need to locate your report name.
The name (or code) is the end of the URL address on the cover and at the bottom of all summaries we print. It is the last part of this web address, in this example the report number is 100815-jem.
Yours is likely to look like:
http://www.hipspro.com/reports/032809122.pdf.


2) You have to add the last part of the URL for your inspection.
If you look at your browsers address bar you will notice that you are at..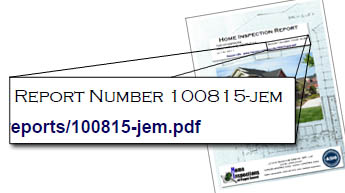 http://www.hipspro.com/reports/
Type the report name found on the cover and on the summary of your report after the / in your browser's Navigation bar, (type in lower case) and type return. Your report will start downloading.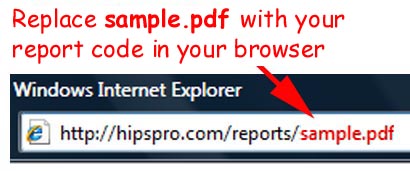 All reports are PDF files and require adobe acrobat reader (get a free copy of Acrobat Reader here). File sizes are large, and broadband connection recommended, slower connections may take a long time.
Thanks for letting us serve you!