Who needs electrical junction boxes?
We find missing and without covers gone all the time
This is an overheating connection in an attic, see the melted wires and connectors.
This thermal imaging scan of the connection shows why an electrical box is a great idea.
Wires almost always fail at the connections, therefore a electrical box would had kept this molten
connection coming in contact with the framing.
I measured that connection to be 435F!! Notice that the connection just a couple inches down
the wire is at a much more reasonable but still hot 116F.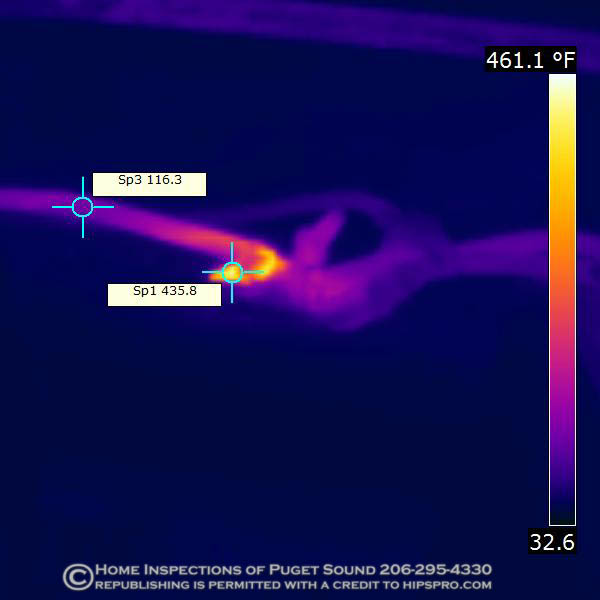 I am surprised connection had not caught the home on fire already, I bet it was ever hotter when
that wire-nut melted off and the insulation charred. Can you imagine all the smoke that must have
been in that attic at this connection smoldered?
If you find this information useful, don't keep us a secret!
List us on any of your favorite networking / bookmarking sites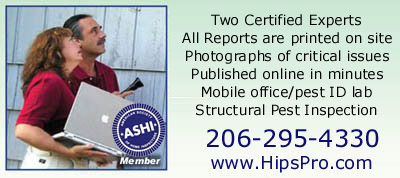 Home Inspections of Puget Sound
206-295-4330
This website is © protected material, all rights reserved.
Any copying our pages or content from our pages, including graphics to another website or into email is illegal
Requests to repost this information must be obtained by contacting us at info@hipspro.com

WITHOUT WRITTEN PERMISSION, MAKING ELECTRONIC COPIES OF THIS WEBSITE CONTENTS IS PROHIBITED BY COPYRIGHT LAWS